Have Questions? Contact Us!
Find out the answers to your questions by contacting us. We look forward to hearing from you!
---
Children and Their Swim Gear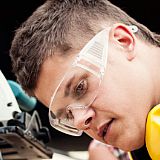 Posted By Patrick C.
---
When it comes to swim gear among children, one of the favorites is the swim goggles. They love to go under water and see what it looks like under water. They love to toss stuff in the pool specifically so that they can dive for it using their goggles.

However, if you have ever had the experience of not having enough pairs of goggles when you go to the pool, you will understand the fights that can ensue. Usually one insists that they should get to use them because they brought them while another argues that they should get to use them because they belong to them. Back and forth the fighting will go over the swim goggles.

Goggles are not the only piece of swim gear that the kids like to take to the pool. They also like to play with a snorkel. Again, this allows them to see under the water. However, using a snorkel takes a little more practice. It often takes them a little time to master this skill. Once they do, they suddenly become the master and show off to their friends.

When it comes to kids swim gear, it is best to make sure that you have enough for each of them to have their own. It is a good idea to label each piece of gear with their name so that you can avoid fights in the future about whose is whose and exactly who has lost theirs when some of the swim gear cannot be found.

Swimming is one of those things that comes naturally to children who are exposed at an early age to the water and swimming pools. It takes a lot of confidence for parents to let go and let their children start swimming. In the beginning, parents should make sure that their kids are wearing a life jacket so that they are safe while in the water yet have their freedom to play and kick in the pool.

Gradually, parents can let their children learn how to swim without a life jacket, with adult supervision of course. Swimming lessons with a professional instructor may be a good idea for those children who are a bit reluctant to let go of that life jacket.

One thing is for sure. Children love to swim and they love their swim gear. They use their gear any time that they get a chance to use it. Lots of summers are spent in the pool playing and using their swim gear to their hearts content. It is always hard to see summer come to end and all of the days by the pool, but they will be back soon enough.